Top: Forum exterior east elevation
Bottom Left: Forum interior looking south

Bottom Right: View of stairs and train sign from bridge that connects addition to historic building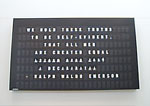 Train Sign video clip Chermayeff & Geismar, Inc. Exhibit Design

Designer, Jonathan Alger

The National Center for the Preservation of Democracy
Completion Fall 2005
Los Angeles, California



The National Center for the Preservation of Democracy is a private non-profit institution that is affiliated with the Japanese American national Museum in Los Angeles. Through a broad range of programs, the National Center challenges people to take responsibility for protecting and ensuring freedom and democracy by actively engaging in the issues surrounding contemporary events, encouraging discussion and debate, and creating avenues for participation.

In the fall of 2005, the National Center opened in the renovated historic building, the former 1925 Hompa Hongwangi Buddhist Temple, which has been used by the museum since 1987. The former Temple is now used as educational space focusing on the intersections and commonalities between African Americans, Japanese Americans, Latinos and Native Americans during World War II, exploring the roles and the responsibilities of the citizen in participatory democracy. A 9,800 square foot addition was constructed north of the historic building, housing a 200-seat theater space for debate, town hall meetings, lectures and educational programs. The exterior of the theater addition is metal and glass curtain wall, of various tints and textures, providing varying light patterns and sun control. The glazing enables visibility from within the forum out to the plaza and from the plaza into the forum, fostering a key component of democracy – the need for transparency, involvement and engagement.