Dodger Stadium Improvements

March 29, 2013

Dodger Stadium, after completion of improvements, is ready again for baseball.

With a 33 year history of work on iconic Southern California architectural landmarks, Levin & Assoicates was a natural fit for the Dodger Stadium Improvements project. The project includes seven new buildings including team stores, concessions and restrooms as well as four levels of seating and concourse improvements.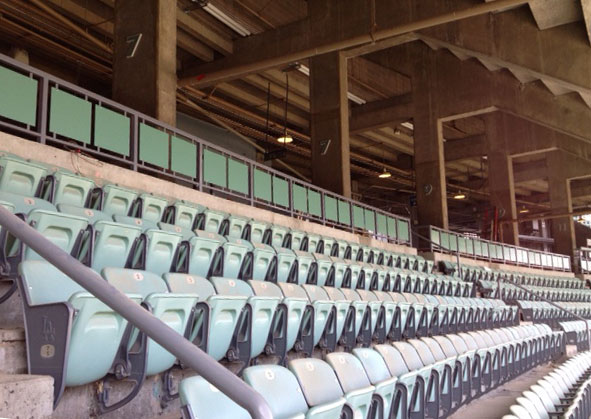 All concourse improvements included the widening of circulation area by removal of 2-3 rows of seats, design and detailing of railings, party boxes and disabled access seating. The new railing design is an open steel rail frame with steel infill panel– each level is color coded to the original 1962 stadium color scheme.

Dodger stadium is a uniquely Southern Californian stadium — set on a hill, with an interior focus on the mountains beyond, a beautiful pastoral setting to watch baseball. These improvements, all designed to enhance the fan experience, create for the first time a connection to the city, through a series of spaces, places and activities with visual connections and long views to the city in all directions. Preserving the past and honoring the incredible Dodger history while enhancing the fan experience was the Dodgers ownerships charge. Their vision and support ensures the future of the stadium for years to come.

The architecture of the new team stores and concessions on the top deck and reserve level take their inspiration from the stadium's 1962 original architecture and form. The use of corrugated metal panels, decorative concrete block, recreated from the original molds, the roof shape of the new concesions, which reference the stadium roof canopies, are all elements informed by the context of the stadium's classic modern architecture.

Link: LA Dodgers Management and Designers Highlight Stadium Improvements



Education | Arts & Culture | Civic & Social | Urban Revitalization
About Levin & Associates | News | Home